Lend your Muscle!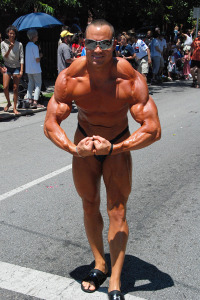 The Parade needs your help!
Volunteers are needed to help make this the best Fourth of July Parade ever. A range of volunteer activities and time commitments are available for those who would like to be involved; prior to the parade, the day of the parade, or both.
Prior to the parade:
No Parking on Hamilton Ave Signage
– Need 2 to 4 volunteers to attach "No Parking" Signs on meters in business district
– Signs have to be put up at most 24 hours before the event
– 7/3 – starting at Noon the work can begin; needs to be completed by midnight 7/3
Dead-end street parade reminder notices
Need 2 to 4 volunteers to post notice reminding residents of the parade date and time.
Specifically the reminder posters are for the streets with Hamilton Ave as their only exit. Folks need to be aware that the parade will be held and to make arrangements if at all possible to avoid using Hamilton Ave during the parade.
Super important and extremely neighborly job.
Day of the parade: various positions to make the parade happen
Recycling tote pushers IN THE PARADE
– Need 4 people, in teams of 2, to be in the parade
– Push a standard-grade Rumpke recycling toter in the parade – 2 sets of 2 people – 1 set toward the beginning and 1 set at the end of the parade. All toters have holes drilled in the lids for easy bottle and paper collection. Parade goers really appreciate the service, so they're typically very receptive and will often flag you down. At the end of the parade, drop the toters off at Hoffner Park and you're done!
Parade Staging: This is where it all begins
Need 12 volunteers, to support the coordination of the participants in the parade
9:30 am to 12:00 pm (noon)
Help organize the marching participants in the parade order. Help folks find their friends and groups. This is where all begins.
Shuttle Volunteer @ McKie Center
– Need 1 volunteer
– 9:30 am to 12:00 pm (noon)
– Get the folks to the parade kick-off location! Help direct folks to the shuttle that will deliver them to the parade kick-off lot at the church.
– CRC will be driving school bus from center of Northside up to church parking lot. Help direct folks to the school bus, load them up, and send the off to the parade kick-off lot.
To volunteer to help with the parade, please contact us.